Americas JoongAng Ilbo
Now possible found 6 Cancer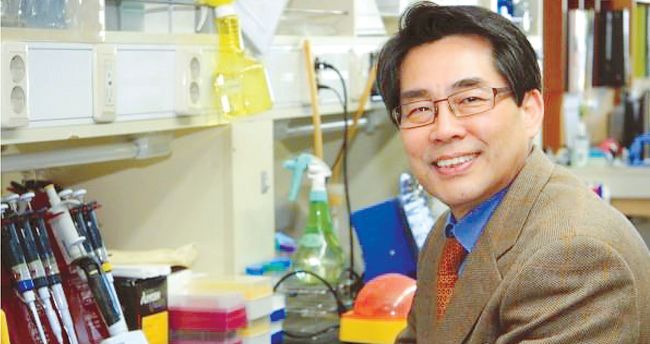 Increased cancer risk precision technique, inspection accuracy is about 85 to 95% With a small amount of blood detection and check a particular protein that appears to cancer patients by bio-technology capable of screening the six cancer, including lung cancer, liver cancer, prostate cancer, stomach cancer, colon cancer, breast cancer for early been developed. Seoul National University College of Medicine Department of Pathology Transactions (photo) Professor and bio-life science enterprise specializing in biotechnology infrastructure team are a smart cancer screening, developed through the work of about 10 years is a normal group in the blood of cancer patients were over a small amount of blood means able to detect the difference between a particular protein than visible, it is dramatically increased by the analysis technique to check the accuracy of the high risk cancer. This technology is South Korea, as well as a worldwide patent pending status register or six cancer screening accuracy reaches 85% to 95% by cancer. For an overview see from Professor Transactions and activating the Smart cancer screening technology.
- Smart background developing cancer screenings.
"Cancer diseases are caused by various causes and results in a more malignant variation of an essential gene in the cell survival additionally superimposed. For more than 30 different types of the protein fragment by studying the characteristics of cancer cells through the years, microscope or in a laboratory the normal cells and became otherwise learned a specific, found only in cancer cells, conducted a study them in blood hypothesis that would not be able to if analysis to detect effectively find relatively to readily distinguish the cancer patients. from 2002 through a study of approximately 10 years through blood tests check for 19 kinds of protein markers and by the result cancer patients and the statistical techniques of Seoul National statistics, Kim Yong-dae professor to distinguish the pattern of protein changes and collaborate differentiated from normal from the analysis of Big data It was a development that will be able to take advantage of the currently completed analysis of big data to provide the most effective cancer screening systems as a blood test. "
- The point is different from the conventional inspection methods.
"How to check the cancer via blood so far is a single-marker test to examine the specific protein pieces one by cancer different cancer diagnosis according to the marker is more usually advanced cancer cases stayed in the 30-40% level yangseongil treatment difficult If were common. in addition, our team was pursuing the index test that checks multiple protein pieces from the first six cancer detection, including through the completion thereof lung cancer, liver cancer, prostate cancer, colon cancer, gastric cancer, breast cancer in a single scan by applying a unique big data by cancer it could greatly improve the accuracy.
- What about when compared with endoscopic imaging devices or tests.
"Etc. In fact, blood tests and imaging devices scan each property is different as well as the pros and cons of each different, it is difficult relative comparison of blood because it can not tell the diagnosis of cancer alone test after possibly cancer separates the big risk-visual equipment If you receive an overhaul to further verification and etc. Finally, the biopsy to be the most efficient diagnosis of cancer. may in particular have a very healthy side effects normal receive the order by excessive exposure to radiation for the purpose of medical examination. cancer is so frequently occurs in 40 or more receive a regular and systematic screening, but economically, because it not time two euros finding of 5-10 percent risk through smart cancer screening effective and easy cancer patients with low cost than you get to the next step inspection It can be detected. "
- Can Smart cancer screening is how to utilize in the future.
"I heard world is now entering a second aging society beyond aging and regardless of developed countries, developing countries, who have long not to live a longer life is also a blessing, but one hand can be a pain inevitably be longer than the suffering by disease Moreover, all countries are able to secure a healthy life fully without sound hayeoyaman stay healthy to enormous economic costs to the rise of medical expenses should be consumed as added as well as personally his later years, according to early aging of people squatting economically According to the WHO in each country since the 1980s, it is proposing to change in the future of medical treatment center as the center of medical prevention and early diagnosis.
Oriented system development and enable early diagnosis of cancer is also urgent. Our researchers through pilot tests of how smart cancer screening system to lay the foundation reshaping the paradigm of this medicine. Cancer 60 to 70 percent are preventable. That is, it can also prevent a significant number of cancers only by excision of the smoking and fast food or the like. It is ultimately a test to determine their health position to the smart cancer screening and increase help healthy life to get out through diet, exercise, stress management, living environment improvement perform highly personalized health management enabling vigorous activity in old age a purpose. "
- Future research directions.
"We are already preparing a diagnostic kit development and clinical trials of cancer-related markers three kinds of excavation over a decade ago for use in clinical practice. When you perform a scan by adding these markers currently cancers accuracy is slightly lower colorectal cancer, gastric cancer, breast cancer also be expected to ensure a high detection rate for. in addition, smart cancer inspection system is simple, accurate, and positioned at a test to greatly contribute to the future prevention and early diagnosis medical people each of Health they manage and as a check to help grabs and expect to be able to be spread around the world. "
<= Help Professor Transactions>